This post contains affiliate links. Affiliate disclosure: As an Amazon Associate, we may earn commissions from qualifying purchases from Amazon.com and other Amazon websites.
The children's room is a personal and special place for them. It is where they sleep, play or study. Every parent wants to create their child's room according to their interest and needs. Your child's room design concepts may be influenced by various circumstances, such as your children's gender, age, and individual preferences.
Designing their room has its own set of obstacles. But, you don't need to hire a specialist interior designer for it. You can decorate your child's room all by yourself. It will be interesting but could also be a challenge for you. For this reason, we have a list of some useful design ideas to help you in decorating your child's room. So, without further ado, let's get started.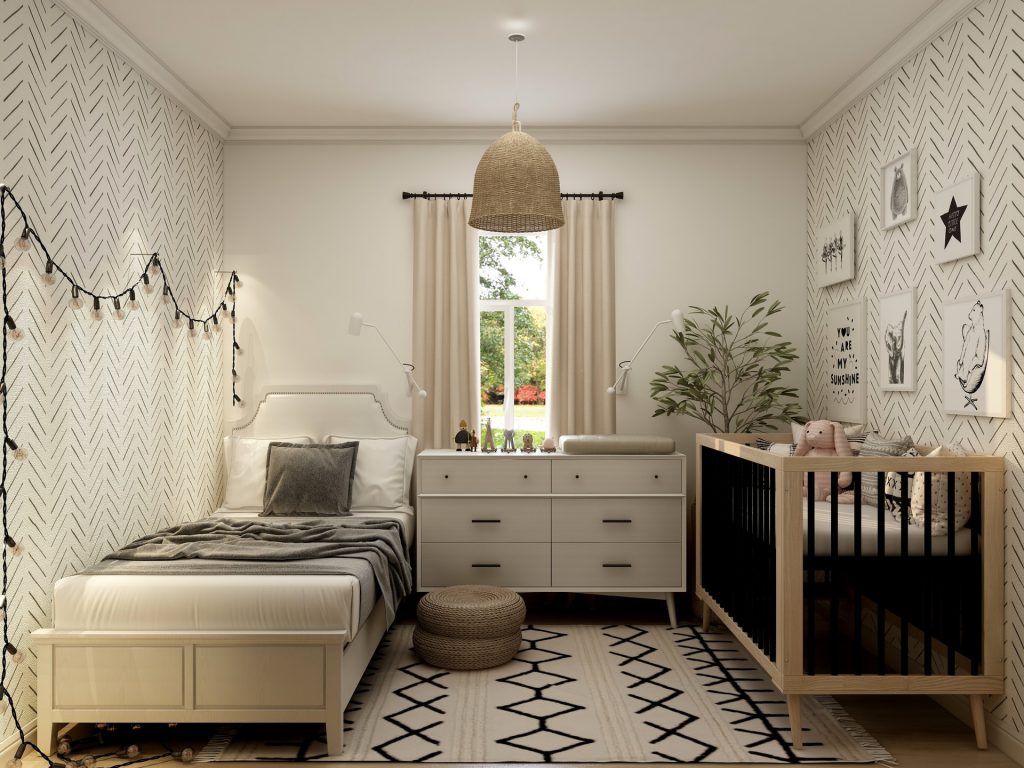 Start with Creating a Small Space
You may leave some space in your child's room if your youngster is interested in producing creative items. Reserve that area for their DIY artistic endeavors. It's best to have this space set up in a corner. Create some innovative storage systems and place their hand-made crafts in the corner after you've sorted them.
Go for a Decorated Ceiling
The ceiling is sometimes ignored in a child's room, but it may offer many decorating possibilities without taking up a lot of space. You can paint it different bright colors to give colorful life to a room. You can repaint it as you like or as your child prefers. Glow in the dark stars or other items is quite trendy these days. You can paste them on the ceiling. It will give a dreamy and interesting vibe at night.
Consider Placing Bunk Beds
Selecting the correct bunk bed takes time and patience. Particularly when you are trying to select the best one with specific dimensions, comfort, and design to evaluate. You can choose a bunk bed as you want. Bunk beds offer a variety of design aspects that might work nicely in a tiny space. Unlike most typical bunk beds, the suspended beds give the space a lighter vibe. However, if you fear that your child may fall from it, we suggest installing a barrier on the edge of the bed.
Add Bright Pop Polka Dots to Room
Adding brilliant colors to the room enlivens the space without becoming overbearing. Rather than spraying round shapes immediately on the wall, purchase circular stencils from your local craft shop. Then, you can color them in your most brilliant colors. Hang them on the wall with hooks for simple installation and removal.
Creating a Small Library in Room
You can turn your child's room into a library theme room. But, if you think it may be a little overboard and your child would not like it, then, you can turn a small portion of your child's bedroom into a colorful library containing his/her favorite books and a study table. If your child is interested in reading, it will be their favorite spot in the room. If not, then it will at least motivate them to read.
Designing a Budget-Friendly Theme Room
Most children love to have theme-oriented rooms. One day they'll want to have a superman theme room, and after six months, they want to have a Harry Potter theme room. No doubt, their interests will change with time, and going all out with a specific theme is expensive and hectic since you may have to change the entire theme of the room each time your child's interests change. The easiest and most pocket-friendly way is to spray paint according to the theme. You can repaint it as they shift on to the next big figure in pop culture. You can also add some theme-appropriate decor and bedding.
Keeping Neutral Tones
If you have a small child and want to decorate its nursery, then you need to apply neutral colors. First of all, it is quite trendy since it gives a minimalist style to your child's nursery. This theme will also enable you to incorporate color cost-effectively. And as your kid grows, this neutral tone will be simple to change.
Create Vibrant Geometric Patterns
If you want to give your child an artistic and dramatic look, create colorful geometric patterns in your child's room. Geometric patterns have reemerged in home decorating, so it's perfectly appropriate to incorporate them in your child's room. On one wall, create some dramatic geometrical shapes using a range of color palettes. It will automatically brighten your child's room.
The above-given list of themes are all easy to implement, and all are pocket friendly as well. You don't need to hire an interior designer to work on it. There are many other themes as well. Ensure that you plan your themes and acquire all your decorative items before implementing them in your child's room.