This post contains affiliate links. Affiliate disclosure: As an Amazon Associate, we may earn commissions from qualifying purchases from Amazon.com and other Amazon websites.
Homeownership isn't as easy as a lot of people seem to think that it is. Something that's quite common in parts of the United States (and that can be an absolute nightmare to resolve) is storm damage.
Just recently, the U.S. experienced one of the worst storms in recent decades, Hurricane Ian, which has caused widespread death and devastation.
People's houses are often destroyed or at least badly damaged in storm-afflicted areas. If your home has been damaged, then you're probably wondering what comes next. This post will tell you, as well as tell you, what you need to do.
Emergency Response
Immediately after a storm has struck and your home has been damaged, it's very likely that the police, fire, and ambulance services will turn up. The reason for this is so that they can evacuate anybody from the house that's in danger and treat anybody who's injured. If your house has been seriously damaged, then the police might close it off and declare that it's uninhabitable until repairs have been made. This is for your safety, and for the safety of your family.
If the emergency services haven't automatically responded, then it's still a good idea to get in touch with them and notify them. A car might be dispatched from your local police force if nobody's injured, just to check everything over. If you notice that any other houses in your neighborhood have been seriously damaged also, then you should notify the police of this.
Making Insurance Claim
The most logical step to take after one's home has been damaged by a storm is to contact one's insurance provider and make a claim. If you do not have home insurance, then you can skip this step. Your insurer will pay you for the cost of the things that have been damaged. Usually, your insurer will send you money for the cost of replacing your property, and then follow up with a payment refunding the gap between replacement cost and actual cost value, in order to avoid excessive payouts. With that said, this does depend on the type of insurance policy that you have.
Assess the Damage
After contacting your insurer and notifying them of the damage that your home has sustained, you then need to systematically go through your property and assess the extent of the damage. An insurance adjuster will be dispatched by your insurer, in order to take a look at the damage themselves. They will create a report detailing all of the damage that's been caused. You need to know everything that's been damaged, too, so you can then verify and approve their report before they send it off.
Prevent Further Damage
You should also do everything that you can to prevent further damage. Unfortunately, after a storm, it's common for people to be left with holes in their houses. You should, if possible, cover up and seal any holes or gaps caused. If any windows or doors have been broken, then you should repair them. If you do not prevent further damage, then you could end up costing yourself a lot more money, and your insurer might not be willing to pay more if the damage was preventable.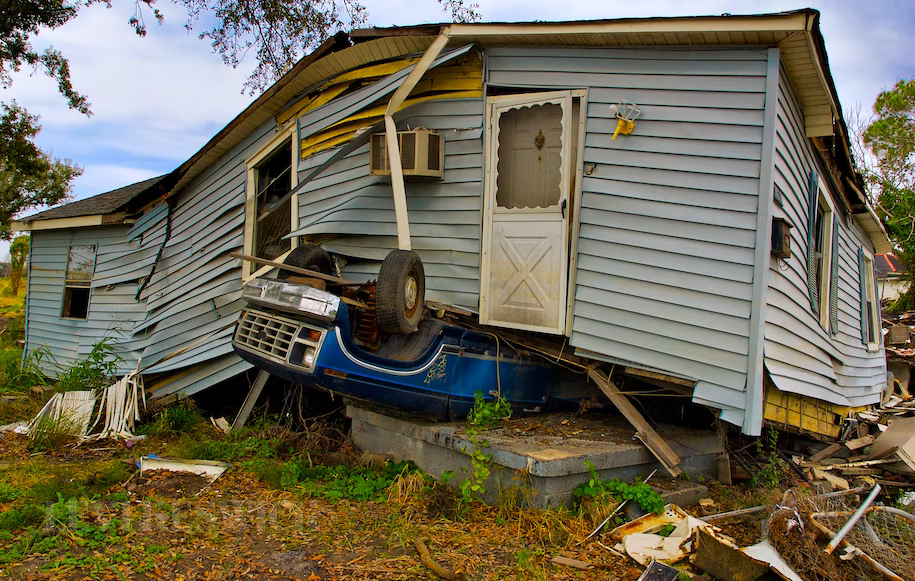 Keep Any Receipts
When you are making repairs to your house, make sure that you keep receipts. These receipts can then be sent off to your home's insurer. You will need to send them full receipts for all of the work that's been done so that they can check them through, and send you your final balancing payment (as already mentioned). A lot of people make the mistake of throwing receipts away—don't do this. If it is possible for you to do so, then you should try to get digital receipts. It's a lot easier to store and keep track of digital receipts.
Move Family Out
You may have to move your family out, unfortunately, until your home has been repaired. Moving one's family out can be a very stressful experience, especially if you have young children and pets. Thankfully, your insurer should be willing to pay for temporary accommodation for you. If this is not included in your policy, then you may have to go and stay with your relatives or family members temporarily. As long as you have an insurance policy, then you shouldn't have to move your family out for too long. You should receive your payout quickly, so you can arrange the work, get everything sorted, and move back in.
Storm damage can be very hard to deal with and resolve. Prevention is better than cure, so rather than having to worry about finding the money to repair your home in the event of a storm, make sure that you have an insurance policy in place. An insurance policy will ensure that you get paid compensation for your home's damages.