This post contains affiliate links. Affiliate disclosure: As an Amazon Associate, we may earn commissions from qualifying purchases from Amazon.com and other Amazon websites.
Looking for a way to transform your garage into something more decluttered and functional? You don't need to hire a professional or break the bank – you can do it yourself! In this comprehensive guide, we will heavily focus on the six main steps towards successfully renovating your garage. From drawing up space-planning blueprints all the way to cleaning up after a job well done, you will find all the information necessary for nailing any DIY project with minimal resources. So get ready; let's start transforming your cluttered old workspace into an organized haven today!
Prep Work
If you're ready to embark on a transformative journey with your garage, the first step is a full health check. You should take into account all of the elements and assess where improvements can be made. The purpose of this step is to get an accurate sense of the current state of your garage so that you know what repairs or replacements need to be done. This will help to ensure that your transformation project is successful, maximizing efficiency and making sure that everything runs smoothly during the entire process. Once you have a good understanding of any potential issues, you can start prepping for the renovation!
Planning for the Transformation
Taking on a garage transformation can be daunting, and planning is key. A successful project relies on defining aesthetic goals and creating a budget that fits within your means. Doing so in advance will help ensure you won't go over the top. Evaluate your current space and think about what kind of look and feel you want when it is finished. Will vibrant paints or wallpapers give you the wow factor? Or do you simply want an organized storage solution? Having an idea of how much money to budget for the project before approaching contractors, suppliers or department stores can save time and money. Planning ahead will make your garage transformation journey smoother and more focused – which translates into success!
Cleaning and Repairing the Foundations
By taking the time to clean and repair your garage foundations, you'll be able to create a truly beautiful workspace that's highly functional and organized. You'll want to get rid of all the old junk that's been lying around and make sure any damaged drywall is patched up or replaced. After you've taken care of these essential steps, you'll be ready to tackle the rest of your plans for the space with confidence! One tip: take some measurements before starting any projects so you have an idea of how many supplies you will need and what type of furniture can fit in the space. Ultimately, put in the work now and your next steps toward transforming your garage will be much simpler!
Adding Storage Solutions
Your garage transformation is incomplete without selecting the right storage solutions! Customizing cabinets, shelves, and racks can definitely help you use your garage's space efficiently. When selecting garage cabinets, you can choose either metal or wood cabinets depending on your budget, style, and function. Cabinets not only keep big items off the floor; but also give your area a more polished look. Shelving options are valuable for organizing and stacking small items that need quick access. Wall-mounted racks offer extra support for those bicycle collections or other tall hanging objects. Keep selecting storage solutions high in priority as it determines how much stuff you can actually store in the end!
Installing Efficient Lighting Systems
If you're looking to transform your garage into a showroom-worthy space, efficient lighting systems are a must. Not only will they help ensure maximum visibility and illumination by reducing shadows and dark spots, but well-placed and effective lighting can also help reduce the eye strain that often comes along with performing certain tasks. And don't worry about needing any fancy tools or special knowledge–installing these fixtures is easier than ever! Just follow this simple 6-step guide to get started on the path towards the amazingly bright garage of your dreams.
Finishing Touches
Your transformation is almost complete! Now that the hard work of reorganizing, cleaning and updating your garage is done, adding finishing touches and some personality can really bring it all together. Floor coverings and decorating are perfect for making use of the space and setting it up to be both attractive and practical. Whether you opt for modern garage tiles, patterned epoxy floors or rugs, bright wall paint or sleek shelving – a little attention to detail can go a long way in setting your workspace apart from the rest. Don't forget to treat yourself to one last deep clean before you can claim your transformed garage as a work of art!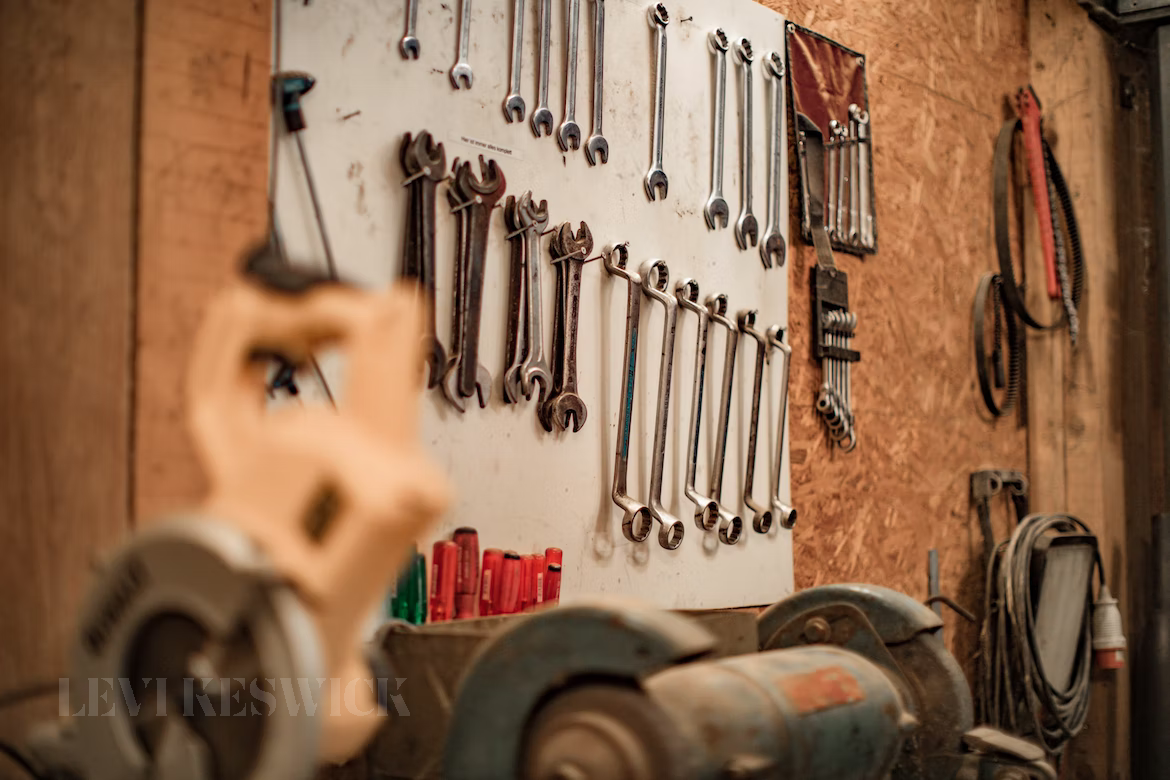 After following the ultimate 6-step guide to garage transformation, you now have a reinvented space that has been customized to your style. You have freed up much-needed space and improved the overall look and feel of your garage. Not only will these changes help with day-to-day functions, but they can also increase the value of your home should you decide to sell in the future. So if you are ready to create a truly unique area in your home, now is the perfect time to get started on your very own garage transformation!