This post contains affiliate links. Affiliate disclosure: As an Amazon Associate, we may earn commissions from qualifying purchases from Amazon.com and other Amazon websites.
This article showcases our top picks for the
Best Men's Luxury Backpacks
. We reached out to industry leaders and experts who have contributed the suggestions within this article (they have been credited for their contributions below). We are keen to hear your feedback on all of our content and our comment section is a moderated space to express your thoughts and feelings related (or not) to this article 
This list is in no particular order.
This product was recommended by Anand Balasubramanian from Glean
I originally purchased this backpack to pack for triathlon races. But now I have started to use it for regular travel. It is extremely spacious. It is tough and sturdy. Extremely comfortable to wear. It looks really cool when you wear it and walk through the airport.
---
This product was recommended by Jonathan Tian from Mobitrix
It is a durable anti-theft travel bag made with high-quality terylene oxford fabric. The bag boasts of large roomy compartments, including ten pockets, one central zipped pocket, three front zipped pockets, one side mesh pocket, and two small strap pockets. Also, three inner pockets in the main front pocket can provide space for personal essentials, like laptops, iPad, and clothes. Carriers can use it as a multifunctional daypack, and it comes with a comfortable back and shoulder strap.
---
This product was recommended by Jonathan Tian from Mobitrix
This luxury backpack is versatile and features a padded side-access sleeve for a 17-inch laptop and a brushed media pocket at the top for protective storage. It has a front organizer panel, a mesh optics pocket, and a unique bottom shoe compartment. It has a compression-molded back panel and adjustable shoulder straps for comfort at the back. This backpack blends toughness, style, and various functionality. Otherwise, the rubber logo is the new updated version of the product.
---
This product was recommended by Gelen Revilla from Good Noise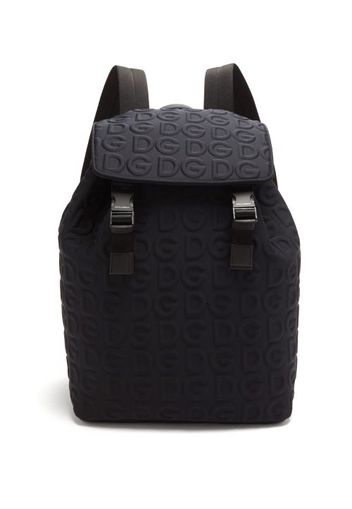 Dolce & Gabbana channels a sporty mood with the DG-embossed neoprene constructing this black backpack. It's crafted in Italy with a comfortable padded back and has logo-print push buckles and a drawstring top that opens to the capacious interior and internal zipped pocket.
---
This product was recommended by Jason Dorsey from Werenthusiast
I recommend it as this backpack looks elegant and is crafted from premium quality leather, offering unparalleled longevity and protection against elements. Besides, this backpack will help me carry nearly all my belongings with style. So, this one will be my go-to backpack for countless adventures.
---
This product was recommended by Orian Ibraheim from Carigu
The Melbourne Chef Backpack is the perfect gift for a chef or cooking enthusiast. It was designed in-house and is the first chef's backpack with a shoe and wet compartment. The Melbourne Chef Backpack was also made with post-recycled materials with added Fidlock buckles for extra functionality. This backpack can also be used outdoors given its weather-resistant material, which means you can take it camping overnight.
---
This product was recommended by Ryan Yount from LuckLuckGo
Gucci is the name of trust and luxury. GUCCI – GG Supreme Canvas And Leather Backpack is the perfect luxury leather backpack for mens. It is medium sized have enough capacity to hold your necessary items. The premium quality canvas and leather made it long-lasting and durable. A perfect leather bag that gives it a classy finish. The signature web pattern and strips enhance its beauty. An adjustable shoulder strap, as well as flap compartments, make this bag both comfortable and functional for you. Not only this, two card slots and a safe laptop compartment are included in the interior. It will be a suitable choice for you at work and for just casual travel.
---
This product was recommended by Geninna Ariton from Trendhim
A men's bag that looks better with time. The exterior was crafted with minimally treated cow leather that looks and feels better the more you use it. Other features include four spacious, easy-access pockets, adjustable shoulder straps to fit any size man, and sturdy YKK zipper closures.
---
This product was recommended by Alina Clark from CocoDoc
A classic design defines the style of this backpack made of innovative Re-Nylon fabric. The accessory characterized by the flap closure with straps and buckles has four zipper pockets on the outside. The padded back is a practical detail of this item decorated with the iconic enameled metal triangle logo.
---
This product was recommended by Sally Stevens from FastPeopleSearch
This thing is a beast. A visually powerful everyday bag with the vigor of the outdoors, the versatile Christopher PM comes with a roomy interior. An attractive style marked by good taste.
---