This post contains affiliate links. Affiliate disclosure: As an Amazon Associate, we may earn commissions from qualifying purchases from Amazon.com and other Amazon websites.
This article showcases our top picks for the
Best High End Audio Interface
. We reached out to industry leaders and experts who have contributed the suggestions within this article (they have been credited for their contributions below). We are keen to hear your feedback on all of our content and our comment section is a moderated space to express your thoughts and feelings related (or not) to this article 
This list is in no particular order.
This product was recommended by Calvin West from Home Studio Equipment
A solid audio interface with four different mic preamps and some features specially geared towards recording vocals. In addition to that, two inputs for guitar and bass as well as 8 line inputs for any additional instruments. It's simply an audio interface that offers everything one might need to record any genre of music.
---
This product was recommended by Andrew Dodson from Really Simple Guitar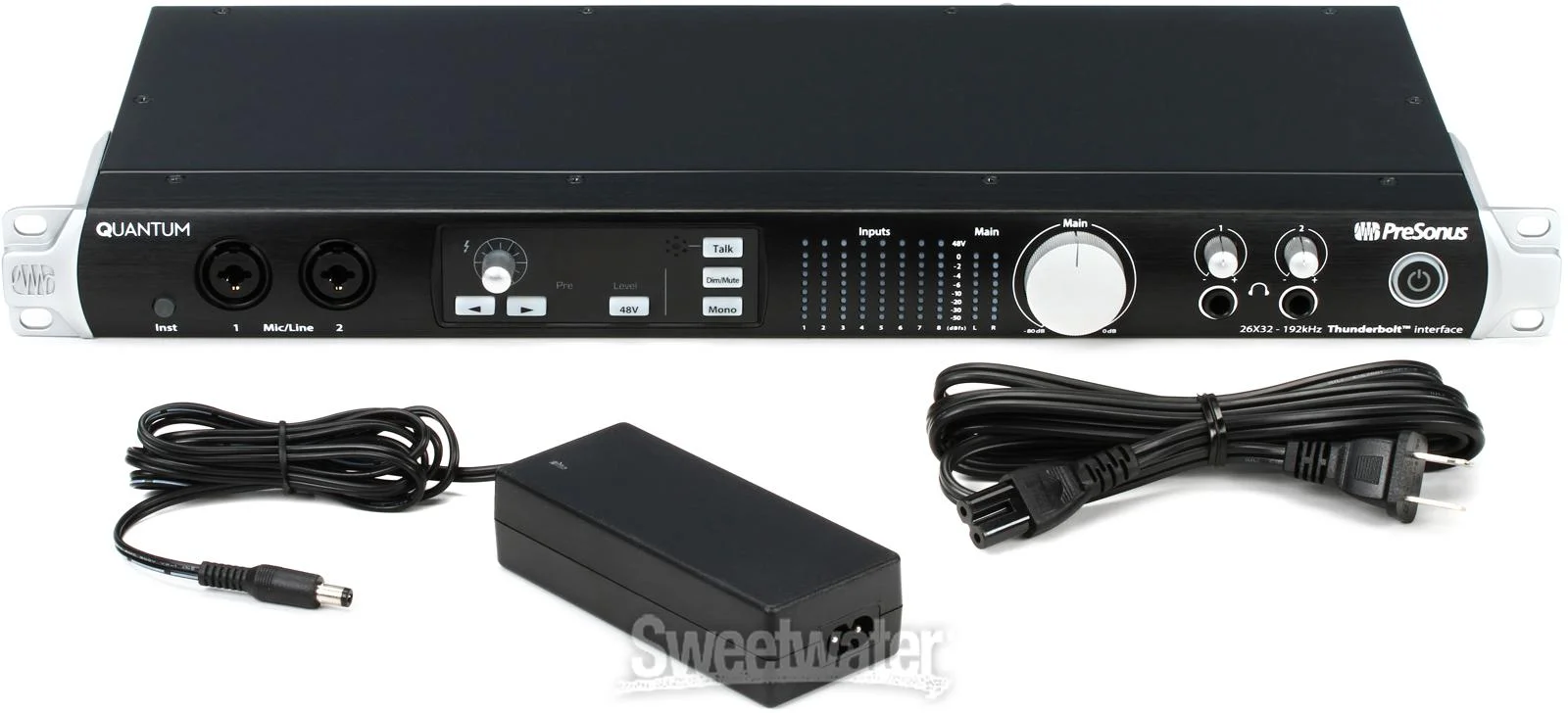 When you want to take your at-home recordings to new highs, you need the perfect audio interface solution to fully capture your sound. Of course, finding that perfect audio interface is no easy task. There are so many different options on the market today, from ultra-affordable gadgets that do a decent job of capturing your sound and converting it to a format compatible with your computer and audio engineering software, to more expensive options that can set your recordings apart from the competition. So, what's the best high-end audio interface? One of my favorite options is the PreSonus Quantum 26×32 Thunderbolt 2 Audio Interface. This unit is about as professional you can get when it comes to audio interfaces. One, it's fast thanks to the Thunderbolt interface. There is nearly zero latency which is critical when recording. More importantly, though, this audio interface boasts an impressive 24-bit/192kHz resolution that can deliver 120dB of dynamic range. What exactly does that all mean? If you bring in an entire band, you're going to hear all the subtle differences in tone and clarity from the piano to the drums to the bass. And for those who really need to add more layers to their recordings, you can actually connect four Quantum's together for a mind-blowing recording experience. As a high-end audio interface, the Quantum certainly isn't cheap. But if you're serious about recording, it's one of the best solutions on the market today. In other words, think of it as a trusted investment in your music. No interface is perfect, but this one is close. Make sure, however, to update all firmware so you're not dealing with any glitches along the way, as some owners have reported. If you want preamp controls at your fingertips and the bonus of two headphone outs, don't sleep on the PreSonus Quantum.
---
This product was recommended by Jeremy Bongiorno from Studio Frequencies
When talking about high end audio interfaces, anything from Universal Audio has to come up in the discussion. There's a good chance you've seen the Apollo Twin X QUAD in professional studios before, and there are many reasons for that. For one, they connect to your source computer via Thunderbolt 3. That, in conjunction with the ultra-powerful QUAD processor, makes these interfaces lightning fast and very sonically accurate. Secondly, the Apollo Twin X QUAD boasts a 10-in/6-out package with dual mic inputs, excellent Unison preamps and a streamlined design. You also get a Suite of UAD's award-winning plugins to boot. All in all, the UAD Apollo Twin X QUAD are a great pick for any studio and I can't recommend them enough.
---
This product was recommended by Kerry Lopez from Incrementors
This one is a portable audio interface in the best sense of the term. The AudioBox USB 96 heavy-duty steel framework so can take a serious bashing and remain completely safe. Its screaming-loud headphone output assures you can hear your music loud and clear, even in noisy spots. And it's USB 2.0 bus-powered, so you can record with it anyplace you can use a laptop. Simply leave it in your laptop backpack or slap it on a tabletop.
---
This product was recommended by Shiv Gupta from Incrementors
The Apogee Ensemble is the first Thunderbolt 2 audio interface to maintain outstanding sound quality, very low latency, and unrivaled studio functionality all in one package. The new Apogee Ensemble includes 8 advanced stepped gain mic preamps, top panel guitar I/O, monitor controller functions that consist of talkback, digital connectivity for 30 x 34 I/O, and two headphone outputs. Merging groundbreaking extra features, acclaimed innovations, and an uncomplicated user interface, Apogee Ensemble is an excellent tool to conquer your ideas when they come.
---
This product was recommended by Abby from Cloom
One of the best performing mic preamps the Scarlett range has ever seen, now with switchable air Mode, gives your recordings a brighter and more open sound. One high-headroom instrument input to plug in your guitar or bass. Two hum-free balanced outputs provide clean audio playback. High-performance converters enable you to record and mix at up to 24-bit/ 192kHz. Quickstart tool to get up and running is more accessible than ever. Includes Pro Tools | First Focusrite Creative Pack, Ableton Live Lite, Softube Time and Tone Bundle, Focusrite's Red Plug-in Suite, 3-month Splice subscription, and your choice of one free XLN Addictive Keys virtual instrument, all available via download upon purchase and registration
---
This product was recommended by Abby from Cloom
RECORD AND CONNECT TO PC: This personal mixer has a USB soundcard and audio interface to record and connect to MAC or PC. It has universal digital audio file compatibility. Beginners or professional studio applications can use it. Low noise design: This portable five-channel DJ console sound controller mixer has an ultra-low noise design with high headroom. It can mix, blend and create music with any audio equipment. It is highly musical with 2-band EQ and Pan on each channel 5 CHANNELS: The device caters to multiple device connectivity because it has five tracks. It has 1 XLR / 1/4" jack combo microphone input, 2 RCA stereo Inputs and 2 1/8" (3.5mm) stereo output plus monitor jacks LED INDICATOR LIGHTS: The recording mixer has LED indicator lights and audio signal clips for user convenience. It has input selection, knobs, master volume controls, independent channel balance and high, plus, low-frequency adjustment 18V PHANTOM POWER: This DJ mixer comes with an 18V Phantom power supply for a reliable power source. Includes USB wall adapter power supply and connection cable. It even has an integrated rechargeable Lithium-Ion battery with 500mAh 3.7V
---